The objective of Wellness @ Emerson is to help you to be happy, healthy, and productive. Our offerings are designed to help improve areas such as financial, intellectual, and physical fitness.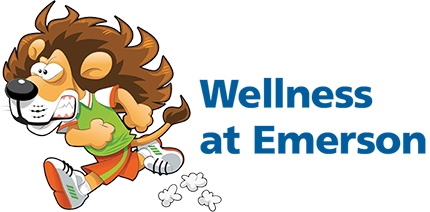 All staff and faculty are welcome to attend. Registration is required for the events.
Wellness Offering
Details
Register!

First Time Home Buying

(Group session)

A representative from The Mortgage Network will discuss:

the climate of the current real estate market

mortgage process

how and why to get pre-approved

how to best position yourself for success in a competitive bidding environment

Register here >>

Blending For Health

A representative from Harvard Pilgrim will discuss:

blending and juicing
combinations of fruits and vegetables
what you should avoid
and more!

Samples to taste and recipes to try at home included.

Register here >>

Productivity: Busters & Boosters

A representative from Harvard Pilgrim will discuss:

the art and science behind forming habits
the factors that impede productivity
uncovering root causes of procrastination
time management and goal-setting skills
focus, follow-through, and achievement

Register here >>

Preventing Burnout:

A Balanced Life

A representative from E4 Health will discuss:

identifying signs and symptoms of burnout
detecting burnout triggers
ways to regain enthusiasm and life-balance
becoming more conscious of your needs and motivators
the connection between physical and emotional needs and maintaining high performance

Register here >>

Basics of Personal Finance

A representative from Metro Credit Union will help participants:

set personal finance goals
learn the basics of smart money management
build a solid financial foundation for the future

Register here >>

Flex, Stretch & Strengthen

Take your fitness to a new level with Harvard Pilgrim:

work muscle groups in patterns that will condition you for real-life movements
stabilize joints, improve strength, and increase blood flow
combination of core, strength, flexibility, and agility training

Register here >>

Caregiving 101

This session from Harvard Pilgram will discuss:

stress and demands - mentally, physically, emotionally - caregivers experience
focus on taking care of the caretaker
ways individuals can help themselves through the difficult ups and downs of helping others

Register here >>

Live Webinars through E4 Health

E4 Health, Emerson's Employee Assistance Program (EAP), offers a wide array of organizational development webinars designed to improve your personal and professional lives.

These webinars offer an online virtual classroom for professional development, personal growth, and health-related topics.

Go to the

E4 Health page
For more information about these events, please submit a request.
Looking for other learning opportunities? Check out our listing of events.