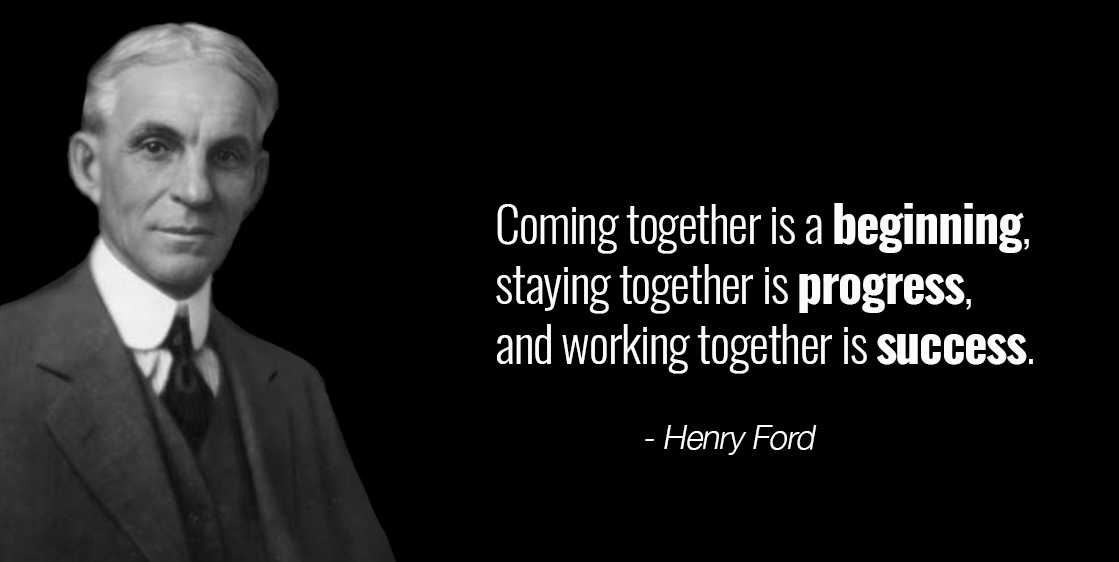 What is the CliftonStrengths assessment?
The CliftonStrengths assessment measures the presence of talent in 34 general areas, or themes. Once someone has completed the assessment, they get a report of their top 5 CliftonStrengths themes.
Human Resources pays for the assessment code for new, benefits-eligible staff members within their first six months. Current staff, faculty, temporary, or intermittent workers are still able to take the assessment and participate in the classes but the cost of the assessment would come from the department's budget.
Why CliftonStrengths for teams?
Like the quote above says, "...working together is success." CliftonStrengths can help team members understand and appreciate the unique talents each person brings to the group. Individuals who know their strengths work together to form better partnerships, and more thoughtful partnerships create stronger teams. When team members value each other's strengths, they more effectively relate to one another, avoid potential conflicts, and boost group cohesion. Strong teams start with strong individuals.
Our CliftonStrengths for Teams Learning Series
We are excited to offer this learning series for teams. Each class will increase understanding of strengths and build greater collaboration between team members. These classes are sequential and registration is required.
All team members will need to complete the CliftonStrengths assessment and attend the Introduction to CliftonStrengths class first. Please refer to the CliftonStrengths for Individuals Series for more information. Team members can attend different Introduction classes, or if you can email hr@emerson.edu to set up an Introduction class for your team as a whole.
Please use the sign-up forms and select the team option. Someone from HR will then reach out to schedule a time with your team.
Class Name

Class Description

Sign Up for Class

Introduction to CliftonStrengths

Participants will learn about:

the power of CliftonStrengths and why we're using this assessment at Emerson
how to get the most out of your reports
where your greatest potential for excellence
the impact our strengths can have on ourselves and others
how our strengths can help or hinder us


This class is the prerequisite for any other CliftonStrengths class.

If you have not taken the CliftonStrengths assessment and are interested in finding out more, please email hr@emerson.edu.

This class is being facilitated by HR staff.

The Value and Needs of your CliftonStrengths

Participants will:

deepen their understanding of their strengths

dive into what motivates us or demotivates us

discuss the needs we have because of our strengths

consider how our strengths affect our ability to building relationships, communicate clearly and think critically

Communicating with Your CliftonStrengths

Participants will:

Identify what makes them a good partner to others
Reflect on what they look for in others
Determine how to communicate more effectively based on Strengths